Aug 6, 2015
Nancy Folbre is a recently retired Professor of Economics at the University of Massachusetts, Amherst and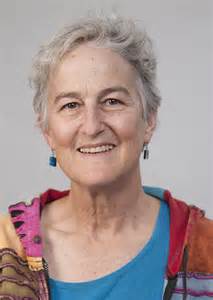 currently directs a research program of gender and care work at the Political Economy Research Institute.
Professor Folbre's research focuses on the interface between feminist theory and political economy, with a particular focus on the work of caring for others.
Nancy was elected president of the International Association for Feminist Economics (IAFFE) in 2002, has been an associate editor of the Journal Feminist Economics since 1995, and is also an editorial assistant of the Journal of Women, Politics & Policy.
Nancy is recipient of a MacArthur Fellowship, and she has consulted for the United Nations Human Development Office, the World Bank and other organizations.
Professor Folbre has also written extensively on the social organization of time, namely the time allotted to care for children and the elderly and how family policies and social institutions limit the choices people can make between paid and unpaid work.
She is a contributor to the New York Times Economix blog.
Nancy's book 'Saving State U' (New Press, 2010) makes a case for strengthening public support for higher education in the United States.
Other recent books include 'Greed, Lust, and Gender: A History of Economic Ideas' (Oxford University Press, 2009) and 'Valuing Children: Rethinking the Economics of the Family' (Harvard University Press, 2008).
Nancy received a B.A. in philosophy from the University of Texas at Austin in 1971, an M.A. in Latin American studies from UT Austin in 1973, and a Ph.D. in economics from the University of Massachusetts, Amherst in 1979.
In this episode, you will learn:
about feminist household economics.
why we should see unpaid work as part of the economy.
how the state and the market has reinforced the patriarchal system.
why the capitalist system, ironically, has downside effects on women today despite the benefits it provides.
about the unmeasured 'Care Economy' where people perform unpaid work.
about the opportunity cost to care work.
why Replacement Cost is a better proxy from a National Accounting perspective for measuring the size of the Care Economy.
why people are intrinsically motivated to care and that money is not an issue.
about the 'Care Penalty' and why we shouldn't take advantage of the care workers motivation to work in the care industry.
Join the Economic Rockstar community where you will learn how to bring your content online with your own website, podcast and YouTube channel.